For years I was a completely addicted to masturbating.
I would masturbate daily, often for hours at a time. I think the longest I ever went was for over 6 hours straight.
How was that even possible? Well needless to say, I was pretty fucked up.
I didn't usually watch porn, but I masturbated to something else that, for me, was even worse. I was as addicted to this as the guys who are hopelessly and horribly addicted to porn.
Quitting masturbating is one of the hardest things I've ever done – and I couldn't have done it without meditation.
(Here are my top resources for learning meditation.)
I won't go into detail about the harmful effects of chronic masturbation – there is a lot of information available online and it is easy to find. But guys report low testosterone, lower sex drive and energy levels, suffering from social and general anxiety, less willpower and less general vitality in life.
Of course, this is mainly anecdotal evidence – and if you don't think masturbation is bad for you, that's fine. Go ahead and keep jerking off 'til your heart's content.
Personally, I know that frequent masturbation:
Made me more nervous around girls and in social situations
Wasted time which could have been spent on something more productive
The more I masturbated, the less I got laid
After doing it for long enough, gave me ED
Based on my experience, the habit of masturbation is hugely detrimental to quality of life. And my experience is really the only evidence I need.
So How Do I Quit Masturbating?
If you've read The Power of Habit
 then you know that a habit is created "by putting together a cue, a routine, and a reward, and then cultivating a craving that drives the loop."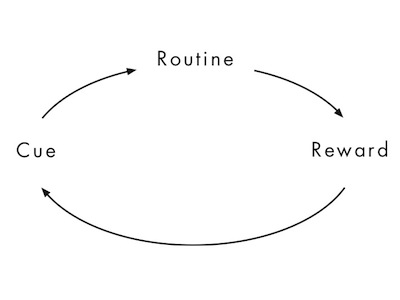 When a smoker sees a pack of cigarettes, this cues their brain to start anticipating a nicotine rush. They crave a cigarette and cannot rest until the craving is satisfied.
For me, the cue was being on the computer late at night, and the craving was for the feeling of orgasm. The routine was masturbating, and the "reward" was jizzing into some tissue paper.
In the book Duhigg describes something we've all experienced: how difficult it is to break a bad habit using willpower alone. He explains the science behind why people usually fail when they try to break a habit simply by trying to stop doing it. In fact, this is nearly impossible. Instead:
The best way to stop a negative habit is to replace it with a positive one.
If you are like I was, then you probably masturbate before you go to bed at night. If this is the case then you can use meditation in the same way I did to help you quit masturbating.
---
Meditation helps you quit masturbating in two ways:
It replaces one habit with another, which is the most effective way to break a bad habit

Meditation trains you to be aware of your thoughts. It gives you greater control over what is in your head, and allows you to let go of thoughts that you don't want
---
When I was addicted to masturbating, I thought about it often. I would entertain the thought many times a day, and because thoughts become actions, I always ended up doing it.
Even after I recognized that the habit was harmful, I couldn't get myself to stop. I hadn't yet realized that you become what you think about – and so despite my best efforts, I kept jerking off.
Things are different now. I use the time before I sleep at night to meditate instead of masturbate. I followed Duhigg's advice, and replaced one habit with another.
Meditation has also trained me to be more aware of what Buddhists call the "monkey mind". If the thought of masturbating enters my head (which is rare now), then it disappears immediately and automatically.
This is what happens with the majority of any negative or self defeating thoughts that arise in my mind as well. Experienced meditators will recognize this as an outcome of consistent practice – and in this way, the mind of someone who has meditated a lot actually has a very different character to that of someone who is less experienced.
But the point is: If you don't think about something, then you won't do it.
For every action you take, there must first be the thought in your mind, followed by its manifestation in reality. If you don't give something a chance to exist in your mind, then it can't enter your reality either.
So tonight before you go to bed, instead of heading over to your favourite porn site, begin meditating by taking a look at the resource list available below.
Instead of rubbing one out in the dark while staring at your computer screen, sit up straight, close your eyes, and focus on the breath. Do this for ten minutes, don't jerk off, and I promise you that afterwards you will be better for it.
Once you have practiced meditation consistently for a while, the thoughts and urges relating to masturbation will lessen, and then disappear completely. If you practice mindfulness, and the thought of masturbating arises in your head, you will laugh at how easy is to simply let it go. And that's if it even enters your head at all.
---
So, to sum up:
Replace the habit of masturbation with the habit of meditation
Meditation helps you quit masturbating because:
The best (and some argue only) way to break a habit is to replace it with another one.
Meditation trains you to have better control of your mind, so when the thought of masturbation arises, you can simply let it go. If you don't think about doing something, then you won't do it.
---
Free resources for learning meditation
Here are my top recommendations for learning meditation.
This page contains everything you need to get started with your meditation practice today including:
Guided audio meditations of different lengths and themes, all available for free online
Meditation apps you can subscribe to
The exact 5-day audio meditation course I used to learn to meditate
Start meditating to begin the journey to increased mindfulness, awareness, and quitting your masturbation addiction for good. Good luck!
---
Do you have any thoughts about masturbation addiction? About meditation? What about making and breaking habits? Let us know what you think in the comments section below.
Summary
Article Name
How I Quit Masturbating Forever Using Meditation (and How You Can Too)
Description
For years I was addicted to masturbation and jerked off every single day. Then I quit masturbating forever using meditation - here's how you can do it too
Author
Publisher Name
Publisher Logo